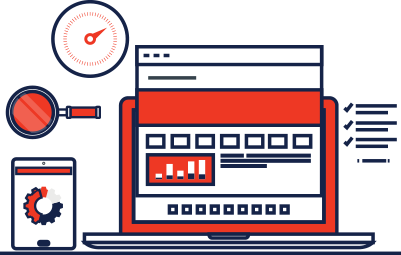 NEW JERSEY SEO EXPERTS
Your website is complete – it's a stunning masterpiece waiting to drive leads to your door. But the worst has happened: the phrase "if you build it, they will come" has turned out to be a fallacy.
The truth is that having a website without ranking on Google is like having a billboard in outer space. No one will see your offering aside from a few stragglers every once in a blue moon that give you hope for better days to come. You've invested just enough money to have a website created, and your marketing budget is so thin, the only traffic you're getting is from you refreshing your order form page.
SEARCH ENGINE OPTIMIZATION – ELEVATING LEADS TO NEW HEIGHTS
Search engine optimization (SEO) allows the world to find your site. A person types in "XYZ service," and you're beautifully-designed page ranks number one in the search results.
Click – another lead pushed into your sales funnel.
Business-to-business marketers, 57% to be exact, believe that SEO has the biggest impact on lead generation. And 81% of all B2B purchase cycles start on Google, or any search engine for that matter.
The best part? Over 90% of buyers say that they'll find you when they're ready to buy. We are the NJ SEO experts and we will make sure those ready buyers go straight to you.
Technology and the digital age has allowed us, as consumers, to be informed about products and services like never before. Consumers know what they're looking for, but if your online presence is only being viewed from astronauts on the International Space Station, your sales will be abysmal.
Local searches – you know, the consumers that live right around the corner – they're on mobile. And these local leads account for 50% of all site visitors.
Google processes over 100 billion searches a month. Without proper SEO in NJ, these leads will go to your competitors. This isn't fear mongering – it's the facts. The top 3 results receive 60% of all 100 billion search result query clicks.
Having a Website Without Ranking It On Google is Like Having a Billboard in Outerspace!
Our 8 Keys To SEO Success
Let's Talk About Your Project